SAWYER partnership held its online Final Conference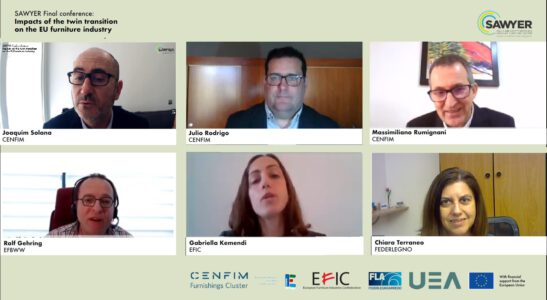 On March 10th 2021, the Final Conference of the SAWYER project took place as an online event with the title: Impacts of the twin transition on the EU furniture industry – Forecast of the sector by 2030 due to its circular economy transition and digital transformation. The conference was well attended by sector actors and stakeholders.
The conference foresaw different presentations by experts, EU social partners and the EU Commission and its key aim was to present the SAWYER project forecast for the sector in 2030.
Following the welcome by project lead partner CENFIM director, Joaquim Solana and the agenda presentation by FederLegnoArredo representative, Chiara Terraneo, the EU Commission officer Danny Scheerlinck presented the aims and activities of the European Social Dialogue on Furniture. Maurizio Melis, a science and innovation communicator, provided an interesting and inspiring keynote speech on the Twin Transition and how it can affect our entire way of life and our society in the near future. Then, Julio Rodrigo, CENFIM Innovation department director, provided an overview about the Sustainable Product Policy Initiative and its effects on the furniture sector and presented the SAWYER methodology. Following that, the project three external experts, Juan Carlos Alonso, Ellen Schmitz-Felten and Jeroen Doom, presented the forecasted scenario of the sector in 2030 and the impact of the Twin Transition on jobs tasks, occupational risks, new and updated needs for skills, knowledge and competencies of 11 relevant occupational profiles of the sector. Then, Massimiliano Rumignani from CENFIM presented the SAWYER project recommendations for sector stakeholders in order to facilitate sector actors to successfully exploit the opportunities offered by the sector Twin Transition.
Following a few comments and remarks by the SAWYER technical team on inputs coming from the participants, Gabriella Kemendi, EFIC secretary General and Rolf Gehring, EFBWW Political Secretary for Wood and OSH, guided the conference attendees through an interactive section discussing the sector future challenges related to the Twin Transition.
The conference was closed by Julio Rodrigo summarizing the outcomes of this dynamic event and presenting the further steps of the project partners as members of the European Social Dialogue Committee on Furniture.
The SAWYER complete Final Report is currently available in English at the following link. Later on it will be available as well in Spanish, Italian, German, French, Polish, Rumanian, Bulgarian, Czech and Swedish.
The project video presentation is available at this link.
The conference video is available at the following link.
All presentations are available at the following link.