Conference on the impacts of the twin transition on the EU furniture industry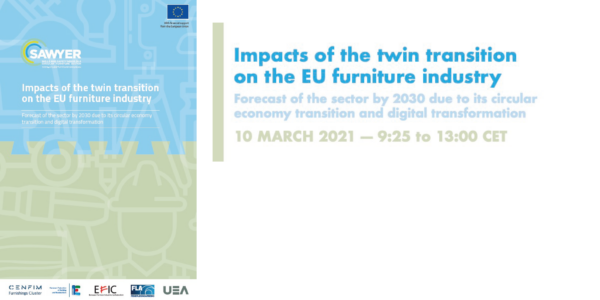 SAWYER final conference – Forecast of the sector by 2030 due to its circular economy transition and digital transformation
The SAWYER project final conference will be held on line on the 10th of March 2021 between 9:25 AM and 1:00 PM.
It will focus on the impacts of the Twin Transition (green & digital transition), which will have a huge impact on the EU industry as well on the furniture sector during next years and decades. A key note speaker will provide an inspiring overview on the relevance of Twin Transition for our entire industry and society and there will be also an update on the proposal for an EU Directive on Sustainable Products and its impact on the sector. We will present as well what European Social Dialogue is and the SAWYER results and outcomes from different perspective looking at how the jobs of the furniture manufacturing sector will change due to this twin transition.
SAWYER has built up its analysis on the outcomes of the DIGIT-FUR project, which analysed the impact of the digital transformation on the furniture industry and in the sector key occupational profiles. SAWYER integrated these results with the expected impacts of the sector transition toward a more circular economy. The final result is a detailed analysis of the foreseen changes in eleven key occupational profiles of the sector in 2030.
The project has been implemented by five partners members of the European Social Dialogue for the furniture sector, with the collaboration of five other national entities and with the participation of more than 60 sectoral and thematic experts.
Following the identification and analysis of the main legislative and voluntary instruments and other policies and strategies impacting the sector circular transition, we predicted how all these instruments will evolve and impact the sector with the collaboration of 51 experts and thus, forecasted how the sector will be in 2030 due to its circular and digital transition.
We analysed in detail how the Twin Transition will change the tasks currently performed by the eleven most characteristic occupational profiles in the sector and predicted which changes will occur in these occupational profiles from an occupational health and safety perspective. Finally, we analysed the consequences of all these changes from the perspective of the new knowledge, skills and competences that these professional profiles will need in that future scenario.
We identified as well the main initiatives that are being deployed across Europe to promote this transition toward a more circular economy.
At the end, the project includes a series of conclusions and recommendations aiming to help the future strategy and work of our legislators, companies, VET regulators and providers.
All these results are included in a report that will be available after the conference in ten languages and downloadable from SAWYER website https://circularfurniture-sawyer.eu/.